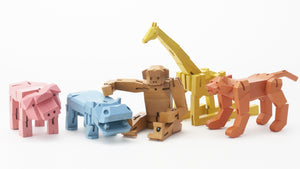 Yoshiaki Ito Design
Founded in 2020 in Brooklyn, NY by Yoshiaki "Yoshi" Ito, multiple award-winning designer and craftsman.  Whether it's toys, furniture, or objects, all of Ito's designs merge a trendy, Brooklyn inspired sensibility with traditional Japanese aesthetic in unexpected ways, resulting in beautifully innovative, but classic feeling products.
Elegant Wooden Toys: Transforming Cuboids into Animals
Experience the artistry of designer-quality, handcrafted wooden toys, puzzles, and playsets that seamlessly transform cuboids into captivating animals. Crafted with precision and sustainability in mind, these exceptional creations elevate playtime to a new level. Choose them for a blend of elegance and sustainability, where wooden toys, puzzles, and playsets evolve into exquisite animals, sparking imaginative adventures for all.
Shop Now
Innovative Folding Mechanism in Wooden Toys
Explore the realm of innovation with our exquisite wooden toys. These masterpieces, renowned for their elegance, incorporate an internationally patented folding mechanism. This groundbreaking design empowers the wooden animals within puzzles and playsets to articulate, strike poses, and undergo remarkable transformations with a simple flip. Embark on imaginative journeys where cuboids reveal their hidden talent, morphing into articulate animals for endless fun and learning.
Shop now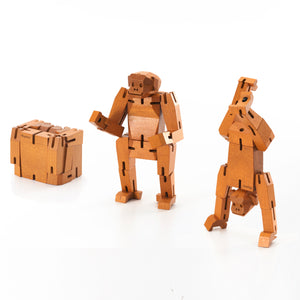 Versatile Creations: Tailoring Your Space to Your Every Mood
Indulge in the exquisite charm of handcrafted furniture and home decor, designed to effortlessly adapt to your changing moods and styles, offering endless possibilities for unparalleled elegance and personal expression.
Shop Now
Let customers speak for us
A cool figure
So, this one looks amazing, it has a lot of points to pose it, the jaws open. My son loved it, and tried to put it in the same position as his cat LOL, a fun toy, that can also look good on a desk
Morphits ® Tiger Wooden Toy: Roaring Adventures Await in our Wooden Playset
Amazing figure
Loved it, it's a bit bigger than what I expected, and I cant believe how it fit in the small box, it looks good, it seems strong, it can get a few seconds to get to pose it properly but overall Im happy with the purchase
Morphits ® Monkey Wooden Toy: Unleash Creativity with Poseable Wooden Playset
Monkey Love
I love my monkey. It's a fun and cute design object, that looks great sitting on my bookcase. Makes a great gift for people who "already have everything."
Morphits ® Monkey Wooden Toy: Unleash Creativity with Poseable Wooden Playset